Devastator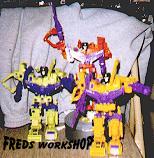 (See Also: Diaclone Constructor Robo!)


Devastator didn't fare much better in the color catagory than did his buddy Bruticus. We've seen the G1 green change into the G2 yellow, and G2 orange. Guess the guy couldn't decide what outfit went better with his eyes. What's extremely unfortunate is that you can have as many as 5 versions of the G1 green alone, if you go by the manufacturer-stampings...Mixmaster has 5 different versions on him, for example (several of which, like his buddies, still fall into the version 1 catagory)... More...

Changes in Devastator Accessories: G1 comes with either large, or small forearm connectors. Note also in that pic that the size of the pegs are actually reversed...large hole on the forearm connector has small holes where it attaches to the unit. Rather odd that the same accessory is small-holed but large-pegged, eh? :-) I wonder if there is a 'transition' unit...

They also made a change in the fists; however, instead of matching with the forearms, this seems to have shown up primarily in carded units (not just one with cards, and the other with giftset, this is a recurring theme, and why we have to have a transitional Devastator listing at the end). The large fists come in either narrow tapered thumbs, or wide thumbs:

Devastator Fist Tapered vs Wide Thumb | G1 Forearms, Large vs Small


An interesting problem with the forearm launchers: Turns out you could have a mix of small and large-pegged forearm weapons (traditionally two small or two large) on either toy. Meaning...some of these toys and accessories never fit together properly right out of the package. Ideally, if the forearms hold in-place as weapon pods in vehicle mode, then they will fit properly on the unit in gestault mode. That's the best test-fit there is. :-) The rest...will either fall off, or crack out. :-)

There were three changes in the G1 big gun molding.

Gun 1: Shallow rectangle indents on back of gun.
Gun 2: Deep rectangle indents on back of gun, and usually a number stamping.
Gun 3: Deep SQUARE indents, sight brace on top larger, fin on mid-barrel larger, and the color is a lighter shade of purple.

Devastator Gun 3 Versions


Please note that Constructicons with strictly Takara stampings are usually associated with the small forearm connector holes and pegs, while Hasbro units traditionally have the larger holes (although this appears not to be an absolute, just a generalization; walt at RMT says he can vouch for the concurrent Takara-large and Hasbro-small). This is a mold change not only on the accessories, but also on the units themselves. The forearms are not the only change; just the obvious one. Every unit between Takara-only and Hasbro stampings had changes to the moldings/accessories. The superwings are not interchangeable, and neither are the waist-connectors. Neither, for that matter, are the heads or headguns; all the moldings are different. So if you wondered why you have so many broken Devastator accessories, there's your answer. Stop trying to force together units that are NOT compatible!

Type 1: Takara-only (both simple and blurked), un-numbered toys, small forearms.
Type 2: Hasbro/Takara shared, (multi-transition), large forearms.
Type 3: Hasbro/Takara shared, #'3' units, large forearms Giftset version.

The thing to remember: what we think of as the first version, second version, etc here in America for Devastator is not the complete picture. It's just easier for people to remember. :-) There was a concurrent-release of two to three different mold versions of Devastator based on manufacturer-stampings (See: Constructor Robo). What I casually mention as 'multi-transitional', could make the list a bit more complicated. :-) Especially considering that several different molds were modified at different times. Sometimes, a unit's molding stayed the same otherwise, but the manufacturer-stamping was changed/moved.

Type 1: Takara-Japan (simple), un-numbered toys, small forearms.
Type 1a: Takara-(blurks)-Japan (blurks is kanji), un-numbered toys, small forearms.
Type 2: Hasbro/Takara shared, (multi-transition), small forearms.
Type 2a: Hasbro/Takara shared, (multi-transition), large forearms.
Type 3: Hasbro/Takara shared, (# '3' units), large forearms, Giftset version.

Below are some of the changes in the individual combiner units:

Bonecrusher: It is interesting to note the difference in peg-size on the little tabs on the legs. Numbered sets have thin pegs, while the un-numbered sets have...you guessed it...thick. Note also the thickness of the raised tread indents on the numbered unit, versus the tapered treads on the un-numbered, thick leg-peg unit (the peg-thickness will also give you a really good idea as to which forearm launcher is supposed to go with him). :-)

Bonecrusher Treads Thick vs Tapered


Long Haul: went from an open, airy front grill, to one that was filled in. I suppose, since the peg on the superwing never fit in there right anyways, it wasn't really needed.

Long Haul Grill Solid vs Hollow


Hook: We have a plain version, and a version with the number '3' (we've got 2 as well) stamped on both his waist, and on the metal prong that connects an arm in gestault mode. Note that in addition to a small change in the stampings, there is also a gun-change (the new version was carried over into the giftset, and G2 versions). There are also persistant rumors of Hooks with a changed, 'hook'. No word as to whether this was an American-change, as all G1 and G2 'Hooks' look the same. Hook also went from a flat-peg on the rear bumper to a rounded-peg (where the superwing attaches to in gestault mode).

Plain vs Numbered Hook Connect-Peg | Hook Waist Numbered | Hook Waist Plain




Hook Guns | Hook Bumpers


Scavanger: A rumor persists about a Scavanger with a connector peg that still has a hook on it. While this may be possible, I have not personally seen it. It would have to have been a pretty early release. In addition, it implies that another Pre-TF molding (a Hook with no peg on the bumper) is also possible, and frankly...I've never seen that, either. Not on TF versions of the mold. Only on Pre-TF (and fake Pre-TF).

Scavanger vs Pre-Scavanger




Patent for Hook | Patent for Bonecrusher




Bonus: What happened to this Mixmaster?


G2 Devastator: Color wasn't the only change we saw between the Generations...in G2, they hacked out the spring launchers in Devastator's forearms, (and Mixmaster's head) replacing them with an empty hole. They changed the size of the pegs on the fists and the missles to accomodate.

G1 vs G2 Arms / Fists


A note on weapons/accessories between G1 and G2 Constructicons: On the handguns, it is fairly easy to tell. Green handguns are G1, yellow and orange are G2, etc. However, you can also tell with the black handguns, as well. G1 had black, shiny, detailed guns, while G2 went with dull black plastic, usually with less detail than G1 (see Superion). Telling G1 giftset guns from G1 carded guns is another interesting matter, mostly involving the number stampings. :-) The easy one is Hook's gun. The change on the clip came between the G1 carded and Giftset versions. The Giftset version was carried over to G2. (G1 Carded On Top, G1 Giftset On Bottom) The rest...well, squint carefully. :-)

To tie it all together:

The current working collector theory is that there are three actual complete sets of Devastator, number-wise, that you would want to own. Of course, this is wrong. :-) Hasbro/Takara stampings run higher than that (note the five manufacturer stampings on Mixmaster alone), so if you're a psychotic completist, you'll need to own at least 11 Devastators. ;-) But let's conveniently ignore that for the moment. :-) Just call it one un-numbered set, and a pair of sets numbered 2 and 3...and a pair for G2. Yea, right...like that will fly...

And again, when I say numbered, I refer to the little numbers (2, or 3) that are molded into the accessories and the individual units themselves, usually into the back of the robot's head. Had Hasbro/Takara not done such a lousy job of parts-changes and mix-ups, we'd have a nice, even transition. Unfortunately, as you can tell from reading this section, we've got a mess instead. :-) So pick your list:

To wrap things up (5 versions):

Type 1: Takara-only, un-numbered toys, small forearms, carded.
Type 2: Hasbro/Takara shared, (multi-transition, 2/3), large forearms.
Type 3: Hasbro/Takara shared, #'3' units, standard Giftset version.
Type 4: G2, Orange, presumed KB-only, shares Giftset moldings.
Type 5: G2, Yellow, mass-release, shares Giftset moldings.

To wrap things up (7 versions):

Type 1: Takara-Japan, un-numbered toys, small forearms.
Type 2: Takara-kanji-Japan, un-numbered toys, small forearms.
Type 3: Hasbro/Takara shared, (multi-transition, 2/3) small forearms.
Type 4: Hasbro/Takara shared, (multi-transition, 2/3), large forearms.
Type 5: Hasbro/Takara shared, #'3' units, standard Giftset version.
Type 6: G2, Orange, presumed KB-only, shares some G1 Giftset moldings, but hacked springs, etc.
Type 7: G2, Yellow, mass-release, shares some G1 Giftset moldings, but hacked springs, etc.

If you want to know the breakdown even further than that...well, then you're a sick, sick individual. :-) But I'll do it, if anyone ever asks. The only changes not specifically listed above are in where the manufacturer-stamping is the same, only it is relocated to a different part of the body on the individual figure (I can see it now: version 15, Hook stamping on right side, Longhaul stamping on left foot, medium forearms, etc).

And for those of you that need help telling your guns apart...well, here you go! Complete with a link to Rework's PIA!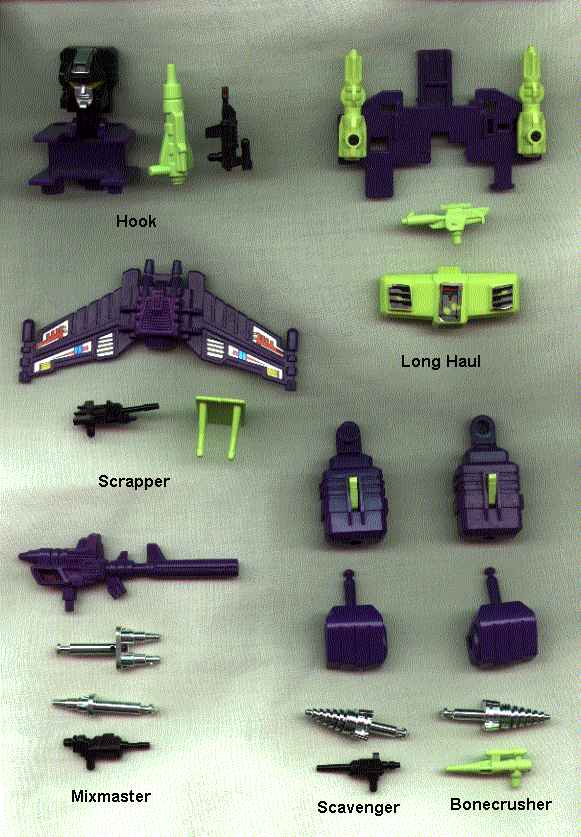 The Stupidity of Combiner Gestaults