Bonus: The Unknown Mutant Blastoff and Swindle: Known!


Crazy-Steve brings us this Blastoff that was molded without the small peg on the inside arm/nose of the shuttle. We've yet to find out where this came from. Is it a mold-error? Another UK toy? You tell us! All the other G1/G2/RID/knockoff sets we've seen come with the peg...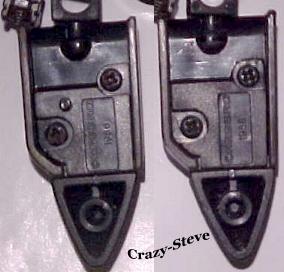 Turns out, it's the spanish version. :-) As Justin G writes, "FYI, I also have a Spanish Macau Blast Off with no tab in the arms, like the "mutant" one on your site. The tab was never molded there." Essentially, there were a number of Euro-Combaticons that were released with the crude block Macau stamping (versus the smooth updated one). While considered Classic in most circles, others contend that they should still be considered G1 release, not Classic or G1.5. I simply note that they don't have the rub-indents. :-) So either way, it places them in the same Euro-catagory anyways.

Blastoff and Vortex Copyrights | Indents | Indents (Closeup)


Steve says more as well: "And finally, remember those oddball Combaticons basics? The ones without rubsign indents at all? The European Classics? Well I noticed one other goofy thing about the Swindle from that set. His rims have a lugnut variant, just like RiD Mega Octane! I've taken a picture that shows him from both sides. Check him out-the rear rims are 5 bolt 'innies' (like in G1), and the front rims are four bolt 'outies' (like in G2/RiD)!This guy's the missing link between the Generational Combaticon rim variants!" Hehe...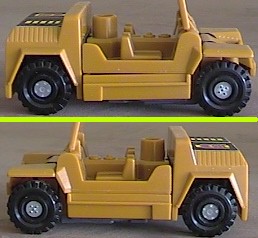 (See Also: Macau vs Japan Combiner Variants)