Machine Wars: Recycled Extreme!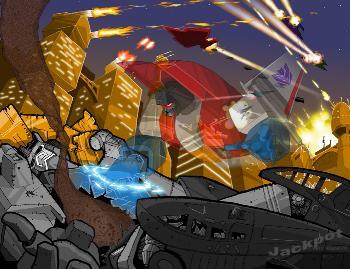 Picture Courtesy of Jackpot




| Prime | Starscream | Sandstorm | Soundwave | Everyone Else |


Machine Wars...a limited-run, Kaybee Toys exclusive line. Released about the same time as Beast Wars, it petered out almost immediately. Which is a shame, but understandable, given the limited selection. They were apparently a test to see if vehicles were viable at the time. Of course, with no commercials, no comics, no ads of any kind, and no toon, they generated little or no interest and failed.

The four Basic molds (Prowl/Mirage, Hoist/Hubcap, Megatron/Megaplex, and Thrust/Skywarp) were all pre-existing molds. It is said that they were originally intended to follow the Cyberjets in Generation 2, but the line was cancelled beforehand. They would have been the very first auto-transforming toys if they had been issued then, as their designs predated the first Beast Wars basic toys that used it.

The four larger molds (Optimus Prime, Starscream, Soundwave, and Sandstorm) were actually repaints and retools of European and Japanese released late G1 (some call it G1.5, as the boxes used the G2 style logos, but didn;t say G2 on them anywhere) molds. All four had their missile launchers and gimmicks either totally gutted or altered to meet USA safety standards. Prime, Starscream, Sandstorm, and Soundwave were originally Thunderclash, Skyquake, Rotorstorm, and Stalker, respectively. They were originally part of the subteams called Turbomasters and Predators.

There were a number of other items in this series not released by KB. Those will be found in the Japanese/European section of the site. The line's one reprieve is that a number of the molds were used again about 9 years later in the Universe line.