Megatron ATB: Was the G2 ATB Megatron really released? Yes, as a vendor's sample, of sorts. One was given away as a prize at Botcon. They turn up from time to time on ebay.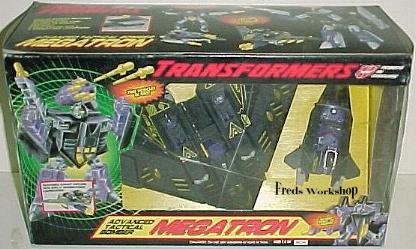 Megatron (Robot Mode) | Megatron (Jet Mode) | Starscream (Loose)


Note that, except for a sticker change on the large jet (where it says MeG24D) the unit itself is nearly identical to the Japanese Beastwars Starscream and BB. Of course, there IS the package to deal with, but frankly...do you really think a BOX makes a ten-dollar toy worth $2,100? God, I hope not.