Stepper vs Reissue Stepper (Ricochet)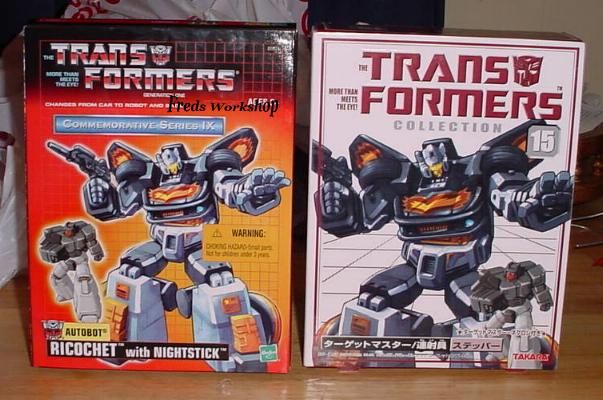 What an awsome piece! I hardly know where to begin. Borrowing my buddy's vintage Stepper figure, I was able to make the following comparisons. Note that for our purposes, the Stepper reissue in Japan is functionally identical (car-wise) to the TRU Ricochet reissue. The main differences between the two black reissues are the weapons (launcher is non-functional and gold-chrome weapons are black on the USA version). That being said, read on as we compare a vintage vs a reissue: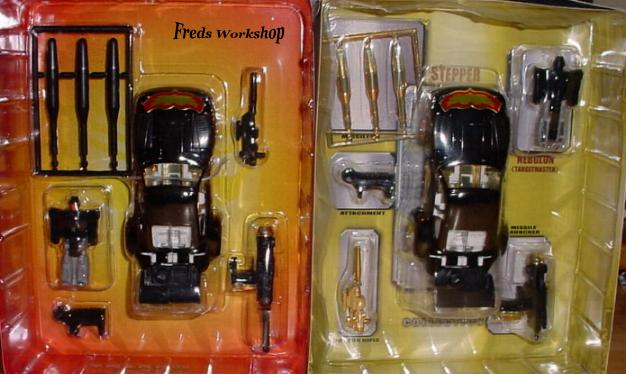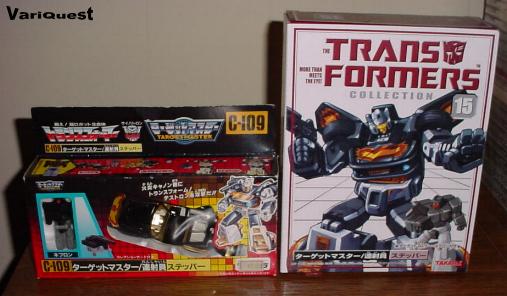 The face: The TRU reissue Jazz, in-general, is already a modified version of the 1st release of the Japanese Reissue Jazz (on the rear window tabs for one; and the larger-peg upper arm pivots for another, though a later Dreamwave reissue incorporated the changes). What is very fascinating is that the face (changed to a smiley version for all the 2000 and above reissues) has been changed *back* to the original face for Stepper/Ricochet. :-) That is darn cool.

The rear spoiler: One would have hoped that they took the molding off the original one, but alas, there have been changes. :-) Good tolerances. The guns are not exactly interchangeable; look at the insides. Note the Mini-Con peg look of the original, while the reissue is flat and deep all the way down. This change was made to the shoulder-bracket accessory as well. The reason for this change will become apparent when we look at the gun...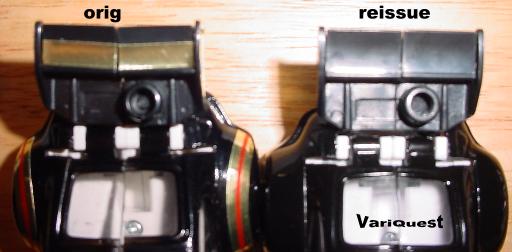 The gun: In both cases, you will recognise the mold for Nightstick, the partner to Cyclonus. He was recycled for vintage Stepper, and is recycled again for the reissue. Note the modification to the TM gun *handle* on the reissue; by changing the gun (adding a smaller nubbin to the tip) they were able to leave the fist molding alone. :-) Which means that he is able to hold all of those nifty extra weapons he comes with. Very nice, very nice. This (modifying the TM gun) was apparently a better choice of changes, especially when you consider they were already modified the gun in front. The vintage one was prone to breakage on the torso/legs. That's been corrected on the reissue by adding a solid support on the front, and running a pin through it.