Puffer: Child of Huffer




Puffer Paradise




Written by Ras


Welcome to the Puffer Paradise article. This article is dedicated to two out of the, so far, three versions of "Puffer" (an amalgamation of Huffer + Pipes). I hope to attain and add the third Puffer to this article...someday.

As far as we know, there are 3 types of "Puffer". The Puffer sold on a European Pipes card, and two Mexican versions; an all dark blue metallic version, and the recently discovered dark metallic blue and white version (much like the one sold on European card).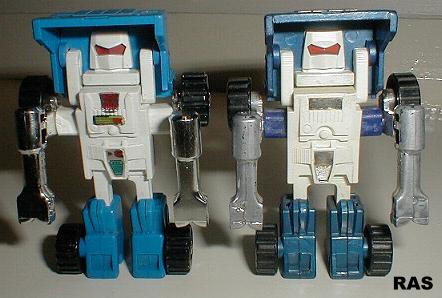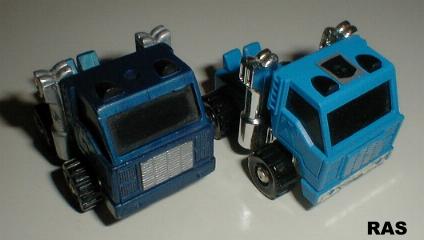 Two of the versions (right: Mexican white version, left: European) can be seen here. At first glance, it is interesting to note the dramatic difference in each of the blue colours. Also, the extentions that join the arms are a different colour. The European's are white, while the Mexican's are blue. It is also interesting to note, that the blue extentions on the Mexican Pipes is different to that of the rest of the body. As opposed to a metallic blue, it is a plain, royal blue.

The European version, sports no copyrights, whereas the Mexican version has the mark:

"?TAKARA CO. LTD.

JAPAN 1974, 1983

HASBRO 1974, 1983"

There are a number of mold differences between the two Puffers (I presume both Mexican versions share the same mold differences) Which are evident from the highlighted areas on the above and below photos. The details of the European version, are more defined than that of the Mexican version. For instance, the rungs of the ladder located on the side of the European version, are thinner, more defined and are of a better quality than the Mexican version's ladder rungs. This would normally be a case of Mexican quality control. However, the "less defined" ladder rungs and other such features are common amongst not only the Mexican versions, but the G1 U.S. Huffer, and Diaclone Joustra Truck.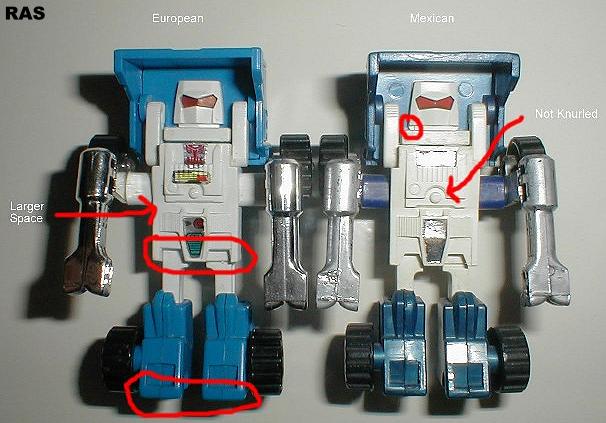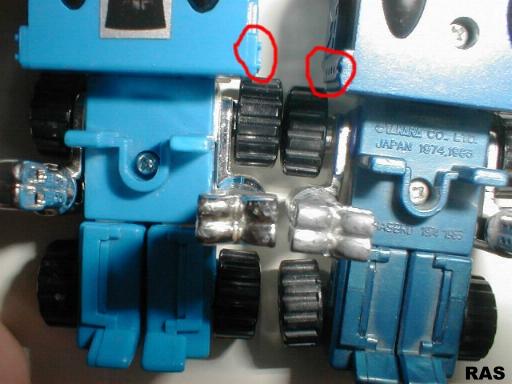 Other mold differences include a thicker, more squared bottom section of the leg on the European Pipes, a small knurled effect on the raised circle in the centre of the chest. A clear cut head on the European Pipes (the Mexican, version has filled in neck tabs). A squared off, on the European version as opposed to trapezium shaped on the Mexican version, section where the legs meet the waist and the space between the chest and pelvis raised details is bigger on the European version compared to the Mexican version.

Some wonder why these versions have white torsos. This is explainable to a certain extent. Quite simply becuase the back of pipes' Torso is white, and as we all know, the back of the Pipes mold is the front of the Huffer mold. It is unknown why none of the two versions in this article share the same blue as Pipes. Also, why these mold differences are present, and why the European Pipes lacks copyright information is unknown at this time. Hopefully more information will be evident in the near future.

As is it the only one known to be found so far, information on the "white" version of the Mexican Pipes is scarce. It may perhaps be an early run of Pipes in Mexico, before they changed it to the all blue version? For the time being I do not know.

In all, the it seems that the European version is more defined, and clear cut in it's detail compared to the Mexican version's, and in some instances other versions of the Huffer mold. Both figures are fantastic and are a must have if you can find them.

Please note, that there may be similar variations of this design that we do not yet know about/do not coincide with neither the design of the toy, nor content of this article, and have therefore been omitted. This article primarily focusses upon the Eurpoean Pipes/"Puffer" and Mexican Blue/White Pipes/"Puffer".

Stay tuned, as hopefully more material will be added.

Ras - www.rarebots.cjb.net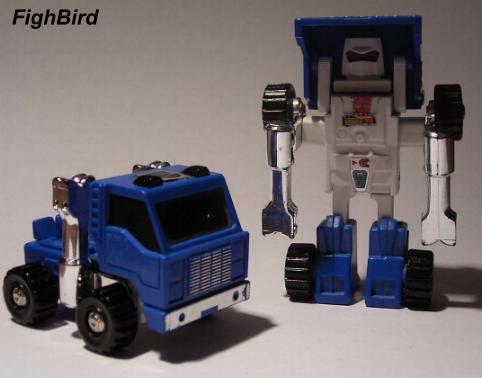 (See Also: Mexican Puffer)